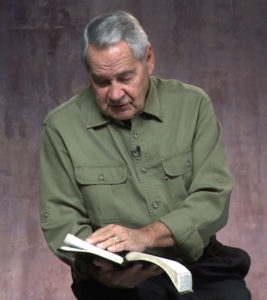 Dr. Rick Yohn is a dynamic speaker, author, and teacher. 
He was a Senior pastor for over 40 years, was Dean of Biblical and Theological Studies for Colorado Christian University (CCU), developed masters curriculum for CCU, authored seven books and 11 different bible studies. He currently runs Rick Yohn Ministries, teaches online for CCU and continues to write books and curriculum.  
He has over 100 videos under Rick Yohn Ministries on youtube.com that include Bible studies, messages, and PowerPoints on many subjects such as: The Land of Israel, The Book of Revelation, The Google Earth Approach to Scripture, Prayer, Leaving a Legacy, the Ministry of the Holy Spirit, and other such topics.  And he recorded a nine-hour video series with Jason Elam, former Bronco kicker entitled "Finding Your True North" .
Dr. Yohn is originally from Lancaster, PA and received his B.S. in Bible from Philadelphia College of Bible (now Cairn University), his ThM from Dallas Theological Seminary and his DMin from Talbot Theological Seminary.  
Rick and his wife, Linda have been married for nearly 60 years and have two grown sons, five grandchildren, and three great-grandchildren.  Their younger son, Steve, followed in the family footsteps and is a dynamic pastor of a congregation in Strasburg, Colorado and also an author. Their older son, Rick, works in the corporate world as a Senior Vice President and lives in Florida. He and his wife offer a retreat center at their home to pastors and missionaries. The only "baby" that Rick and Linda have left at home, is their beloved golden retriever, Buddy.